Did Sshivani Durga really performed black magic on Shilpa Shinde for which she is evicted from the Bigg Boss house?
| | | |
| --- | --- | --- |
| | | |
Surviving for just two weeks, Salman Khan announced Sshivani Durga's eviction on Bigg Boss 11 Sunday's episode. Taking it quite positively, Sshivani feels that she fulfilled the expectations riding on her. Here is all that she shared in an exclusive chat with indianexpress.com.
Not all babas are fake! Holding the message close to her heart, Sshivani Durga had entered the Bigg Boss 11 house to bring back the lost glory of her community. Surviving for just two weeks, Salman Khan announced her eviction on Sunday's episode. Taking it quite positively, Sshivani feels that she fulfilled the expectations riding on her. Just hours post her eviction, Sshivani got in an exclusive chat with indianexpress.com where she said, "Well I did go in the house with a lot of expectation but I never believed that I will stay there for too long. I wanted to spend some quality time rather than quantity time, and I think I managed to achieve that in my short stint. The audience and the housemates saw the real Sshivani Durga and I have come out on a positive note, with my head held high."
Before entering the house, the godwoman spoke a lot about how she wanted to change people's perception towards her community. When asked if she managed to attain that in her short stay, she said, "We have our limitations and I could not come in between fights or create controversy to stay in the limelight. But yes, even in the short time, I gave my best. At the end, I did manage to win the love, trust and respect of the housemates. I feel Bigg Boss is a show, where your life takes a turn once you are out of the house. So I am all kicked now about my new chapter in life."
While she spoke about winning the love of housemates, we questioned her why nobody voted to save her from the nominations this week. A tone of sadness in her voice, she said, "I was disappointed that Jyoti (Kumari) was given five votes while I had none. Even Hiten (Tejwani) and Hina (Khan), who I shared a wonderful bond did not vote for me. But I picked up my emotions and tried my best to protect the people I wanted to be saved from the nominations. While I voted for Hiten, I got Sapna (Chaudhary) to vote for Bandgi (Kalra) and Jyoti for Benafsha (Soonawala)."
During the course of the show, one night, the godwoman was seen sitting up still staring at Shilpa Shinde. The visual had created a wave of terror among the housemates who felt that Sshivani was up to some black magic. When asked about the same, she laughed to say, "Shilpa was the one who was staring at me and I only gave it back to her. That night, the fight was between Shilpa, Hina and Vikas Gupta; don't know why Shilpa started giving me fierce looks. As for Puneesh (Sharma), I have no clue why he spread the word that I was doing some magic."
There was a recent buzz that the sadhu samaj wants to disown Sshivani for participating in Bigg Boss. The members of the association had claimed that seers who participate in reality shows are complete cheats. Dissing the thoughts, Sshivani quipped, "I want to convey my message to these authorities that it's in our shastra that we can use any platform to spread the message of God. I don't understand then how can they question my choice? It's complete hypocrisy. Also, I feel participating in such shows doesn't make us fake but the ones who don't understand their duties nor lets other do it are bogus."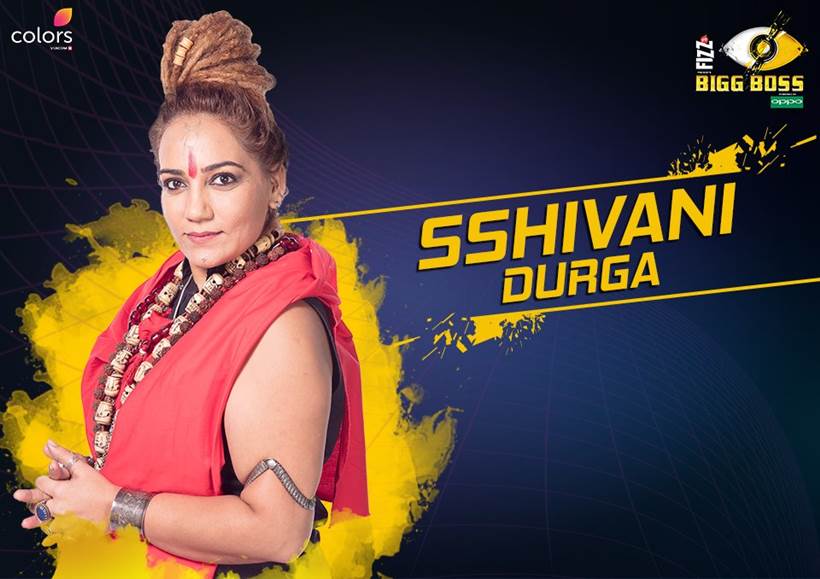 While Sshivani confessed that the show is not scripted and fights are happening for real than choreographed, she also shared that Puneesh-Bandgi's romance is just for the camera. "Also the fight that happened on the first day between Zubair Khan and Puneesh was made up as they felt that could get them eyeballs. After Zubair left, Puneesh turned all thanda,"she said with a smile.
Lastly, the godwoman shared that she is ready to explore more shows if that gives her a platform to spread her message. As for Bigg Boss, Sshivani is supporting Hiten Tejwani and shared that she doesn't like Vikas and Arshi Khan. She averred, "While Vikas has zero patience and loses his temper all the time, Arshi is a dirty game player. They are creating a lot of ruckus in the house."
Related Stories